We like to call FAIRLING an online dating site for brands: The goal is to get a perfect and long-lasting match between brands and stores. And we can tell you this much: There is already quite an amount of great FAIRLING-Love Stories to tell. One of them is the story of Montreville.
Montreville is a watch brand based in Belgium, which offers elegant and luxurious watches. Their products are designed and inspired based on different cities all around the globe.
Since October 2020 the brand and its founder Tom are part of the FAIRLING community. After only one ad on FAIRLING he made his biggest sale yet.
We wanted to know more about this love story and asked him about his brand story and experience on FAIRLING. Here's the love story of Montreville:
---
How did it all start? What's the idea behind Montreville?
Montreville is a self-funded, independent company that started out as an idea to create affordable, luxurious designed watches that complete your look. With a passion for travelling and watches, we created our brand with on-trend timepieces.
Every model is designed in our headquarters in Belgium and is based on a city from around the globe, through its aesthetic design and colours. Our self-inspired styles are minimalistic, clean and have stunning details. Made with high-quality products, our timepieces are a must-have for the fashion-conscious.
Starting my own brand has been my dream for the last couple of years. After I gained the necessary experience in the professional field, it seemed like the right time to start.
Watches have fascinated me for a long time and I already had several watches at home. I never really had a relationship with one particular brand and the watches always came from very far, since I never quite found my style with the Belgian brands. That is why I thought it was necessary for a modern brand of men's watches to be introduced in Belgium.
Who are the people behind Montreville? Tell us something about yourselves.
My name is Tom De Gelder, I am 25 years old and I live in a small Belgian village. After finishing my studies in International Management, I started working as a digital consultant at a bank. With the idea of setting up my own business, I gained further experience at an eyewear brand as an account manager. After I gained enough experience and learned a lot about the day-to-day operation of a fashion brand, I started developing my own brand.
While designing the watches, I was inspired by cities from all over the world. With a background in tourism, this seemed to be a creative idea with a lot of potential. Basing my designs on cities gives me a lot of inspiration for my upcoming designs.
Montreville is a sole proprietorship, but of course, I could never start the brand without the support and help of my family and friends.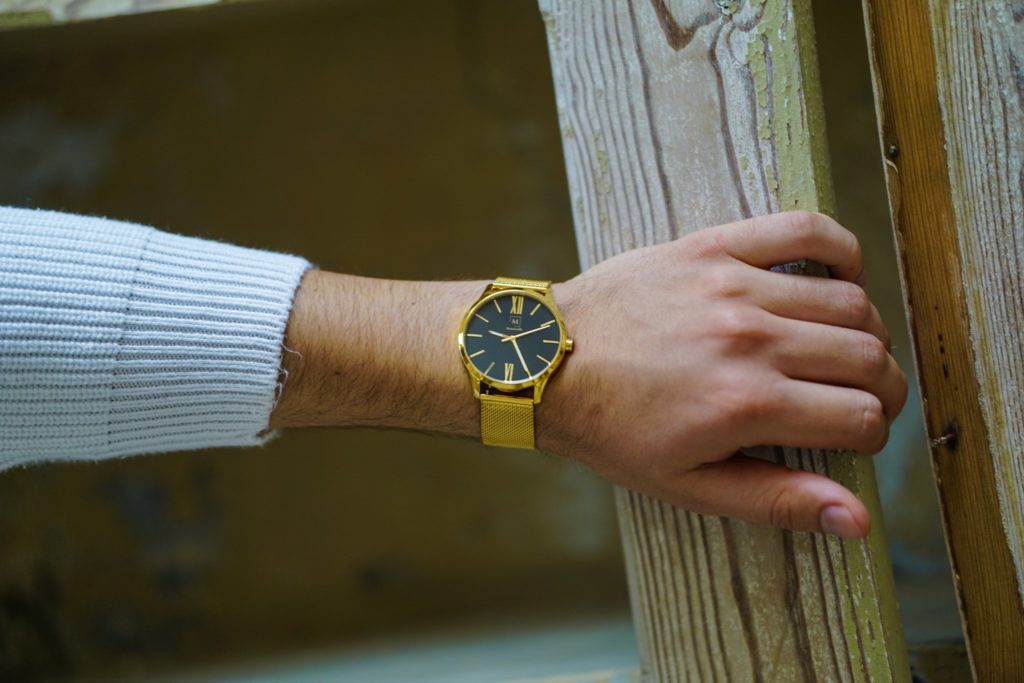 What was your favourite highlight or happy moment in the last months?
One of the happiest moments must have been when the first sample of watches arrived and I noticed how beautiful and how high quality they were.
Further, making my first sales (B2C as well as B2B) was also very important. Using FAIRLING as a tool to generate B2B sales has really helped me during my first months. After publishing my first ad on FAIRLING I got my biggest sale yet.
In marketing and sales, you rely on strong, long-term relationships with your retailers. Why do they choose you? And why do you choose them?
Offering high-quality products at fair prices is one of Montreville's biggest strengths. Furthermore, the designs of our watches are unique and stand out. We strive to offer very good service and excellent conditions. These are the most important reasons why retailers reach out to us.
The retailers that Montreville cooperates with are mainly small (web)shops that sell unique products. The quality and design of the product are extremely important for them.
You have just received the biggest order in your company history (so far). Could you tell us a little bit more about one this 'love story' with the reseller?
Thanks to my first ad on FAIRLING, a Belgian reseller reached out to me. She recently started her own webshop on which she wanted to offer high-quality Belgian products.
Being from Belgium myself, the communication happened very smoothly and fluently. It was very clear that she was genuinely interested and it did not take long before I received a big order. It was very clear that she already knew a lot about Montreville due to the information on FAIRLING. This helped speed up the process and complete the order.
Where should the journey go? What is the vision of Montreville?
At the moment I am very satisfied with how Montreville is growing. I met many resellers who are genuinely interested in the brand and the orders come in smoothly.
With resellers in Belgium, The Netherlands and France, Montreville is already growing internationally. In the long term, I hope that Montreville can expand more and become a well-known brand in the (Belgian) watch market.
Is there anything you would definitely advise other young, emerging brands to do?
I would recommend them to offer unique products and to use online platforms such as FAIRLING to connect with resellers from all over Europe.
Further, make sure to already have gained the necessary experience and surround yourself with people who are experienced in your niche market.
Thank you, Tom, for the great interview and all the best for you and your brand! Hopefully, there will be many more Love Stories for you to experience!
---
| | |
| --- | --- |
| Company: | Montreville |
| Founder: | Tom De Gelder |
| Country: | Belgium |
| FAIRLING member since: | Oct 27, 2020 |
| First international request: | After 1st advertisement |
---
You want to be part of FAIRLING, too?
Great, there's a whole world of local stores waiting for your products! Just book a free demo call with one of our brand scouts – they will be very happy to talk about your possibilities on FAIRLING and answer all your questions.